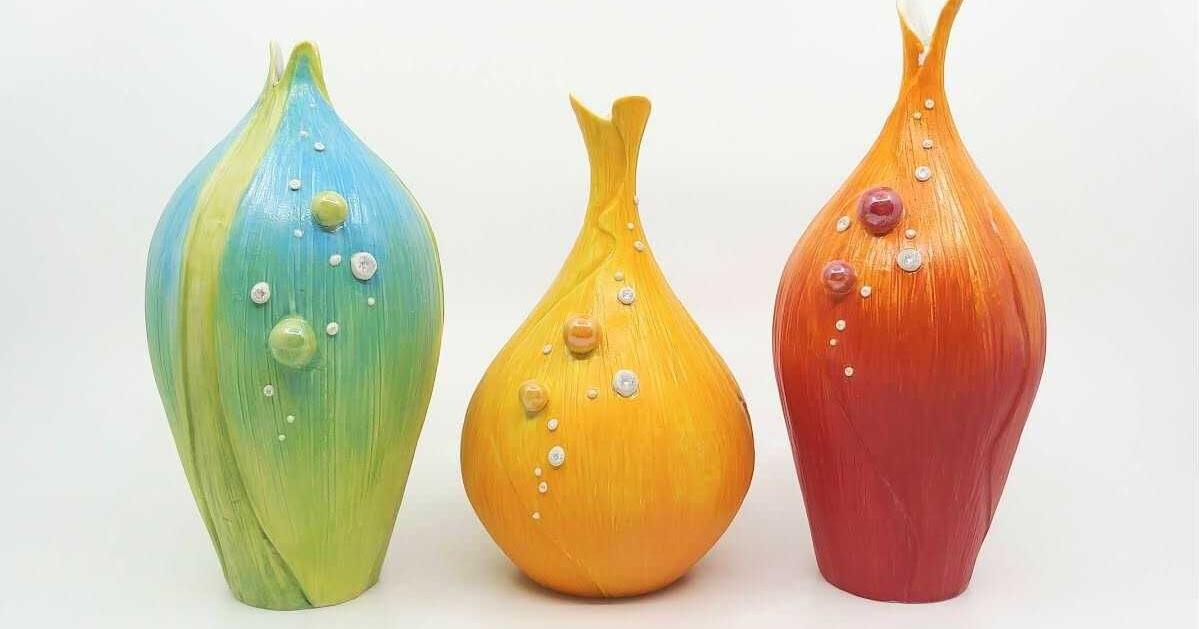 WVU artist uses ceramics to 'reconnect people with nature' | Culture
Stacy Larson, a freshman graduate student from Cold Spring, Minnesota, uses sensory perception to capture the beauty of nature in her artwork.
Larson's works are on display at Taylor Books' WVU Graduate Ceramics exhibit in Charleston, West Virginia. She said the audience reconnects with nature by engaging with the artwork in a personal and meaningful way.
"I like to live by the words 'notice what you notice' because I think people these days need to be more engaged with their surroundings instead of being stuck on their phones," Larson said. "I think if you make pottery you can help accomplish that."
Larson's passion for ceramics began in high school, which led her to study ceramics and jewelry during her undergraduate years.
"I really enjoy the tacticity of ceramics — I really like functional pottery — where people can engage with it," Larson said. "It's unlike any other artistic medium."
Fresh off the first semester of the three-year MFA Ceramics program, Larson said WVU helped her find her calling as an artist.
Graduate students in Art and Design work in a personal studio, which allows them to explore different artistic paths such as ceramics, sculpture and printmaking.
Next spring, Larson plans to study abroad in Jingdezhen, China, where she will work with some of the city's most prominent ceramic artists. The city has a long history of producing and distributing ceramics of various styles throughout the world.
"I go to school to really understand who I am as an artist and why I do what I do," Larson said. "It's really great to have a group of peers who are also dedicated to ceramics and the field and a group of teachers who are dedicated to you as a student and helping you get to where you want to be. "
Associate professors Shoji Satake and Robert Moore, Larson said, bring unique perspective and wisdom to WVU's ceramics program.
Jennifer Allen, who was previously a faculty member of WVU's ceramics program, has also created a positive impact on ceramics students. She recently transitioned to full-time studio practice, but still takes time off to do studio tours with students.
"The one thing I love about ceramics is that everyone is so welcoming, and everyone in the ceramic world is so welcoming and engaging – everyone is so willing to share their knowledge" , Larson said.
Through his work, Larson aims to teach others the importance of admiring the little things in nature.
"In my ceramic work, I strive to capture the beauty and emotion I feel in the presence of nature by reproducing my perception of these sensuous details," Larson said in an artist statement.
His advice to budding artists: try different things.
"Don't focus on one thing until you know it's what you really want to do. Be open to experimenting and really playing around with the hardware — there are so many options out there," Larson said. "Don't be afraid to step out of your comfort zone.