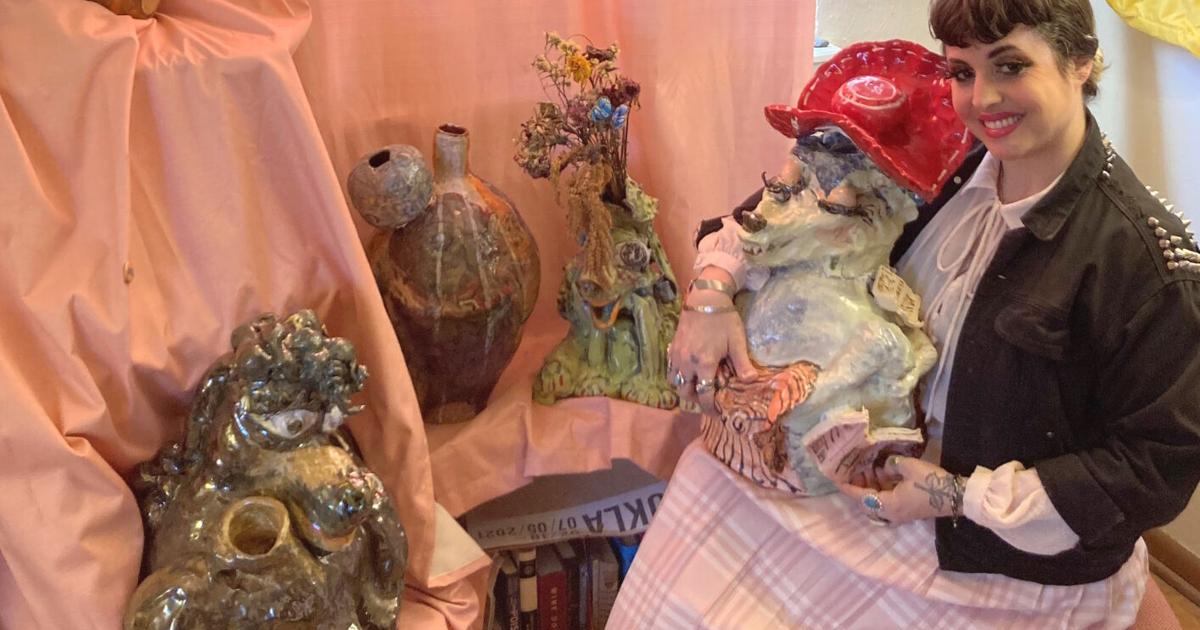 UO Fine Arts Library Hosts Lauren Panachelli Ceramics Exhibit | News
Outlets for grief have been sought through the ages. Mourning and bereavement are part of the human condition, just as much as joy and celebration.
Learning from the past while looking at what one hopes will be a better future can be part of the creative process. Norman artist and Pioneer Library System librarian Lauren Elizabeth Panachelli has sought to examine these complexities in an exhibition of her ceramic work entitled "Moments of Mourning, Notes on Grief by Corporeal Ceramics".
It's open now and runs through March at the University of Oklahoma Fine Arts Library at Catlett Hall, 500 W. Boyd St., Room 20.
"My body clay project was a year-long deep dive into a personal grieving process, but also an assessment of what grief and bereavement is about to look like in a big way," Panachelli said. "I looked at literature, art, public spaces and performance to see how we approached grief as a people. These two things coming together have accumulated in a ceramic body of work.
Panachelli graduated in 2011 from Parsons School of Design-The New School with a Bachelor of Fine Arts in Fine Art and Studio. She also holds a 2019 Masters in Library Science from OU. For years, Panachelli has been an active member of Norman's vibrant alternative art scene at Dope Chapel, Resonator Institute and Oscillator Press.
"My ceramics are very decorative and centered around the poodle," she said. "They have storytelling and mental health therapy components, because the whole process was for that."
Panachelli has also compiled a bibliography/research guide to OU's fine art collection of books dealing with grief and grief through art.
"We can all read together and see how we're supposed to do all of this," she said. "Working with clay has been the most therapeutic thing I've found for my personal losses. It gets me through those tough times when I was waking up at 3am and couldn't get back to sleep. I allowed myself to get up and do clay.
Working with the public in his library gig made Panachelli realize there really wasn't a bigger outlet during the global pandemic.
"It was a feeling of, it happens, we're all going to have to start grieving together soon," she said. "There are ways to do it, because there have been in the past and how can we learn about it. He was a gateway to this research.
Panachelli describes his ceramic pieces as physical manifestations of different storytelling components.
"As a librarian, I feel like I'm just starting to learn how to tell stories in a nuanced way," she said. "They are important to our culture and to humans, in terms of survival and heritage. When I come across interesting stories or confusing topics, a storytelling itinerary can help make sense of them. All these ceramics speak of this process.
At this point in her interview, Panachelli dropped an unexpected bombshell when describing the aesthetics of her clay work. She was influenced by artist Samuel J. Butcher.
"I always have Precious Moments™ in mind, just because I think they have this very dense sense of remembrance and commemoration of a time gone by," Panachelli said. "My ceramics are very romantic in a rough way right now because I'm just learning to work with clay.
"A friend of mine saw them and said, 'Oh rude. I said, 'They're poodles with eyelashes and fingernails. What do you mean rude? My work is always in memoriam, romantic in a way that speaks more of kitsch than nostalgia.
Panachelli may have assumed his archetypal Trickster persona by describing the Precious Moments Chapel in Carthage, Missouri as his favorite place on earth.
"I had never thought very deeply about Precious Moments," she said. "But, then, before I came to Oklahoma, I read about Sam Butcher, and all he wanted to do was recreate the Sistine Chapel and make it his own with his characters. I thought it was goofy, and I love that kind of devotion. It's a kind of permission that you can give yourself as an artist. Set your own goals and do what you want.
"As you walk through the Precious Moments Chapel, you come across these memorials to loss and bereavement. I never thought these were children who went to heaven. The veil has been pulled back and there revealed that it's about Butcher dealing with loss, family grief, and finding his way in the world.He has his issues, but overall it's a really compassionate project.
Panachelli leans into artistic intuitions, emphasizing authenticity, and it works for her.
"I love what I do," she says. "I truly believe now that if you love what you do, you'll never work a day in your life. Working in the library is the most magical job on the planet. It allows me to keep a cool head, to work with people in a way that doesn't involve me.
"It's about them and their connection to the resources right in front of them in the library. And then I have plenty of opportunities to be creative. They feed very well. »