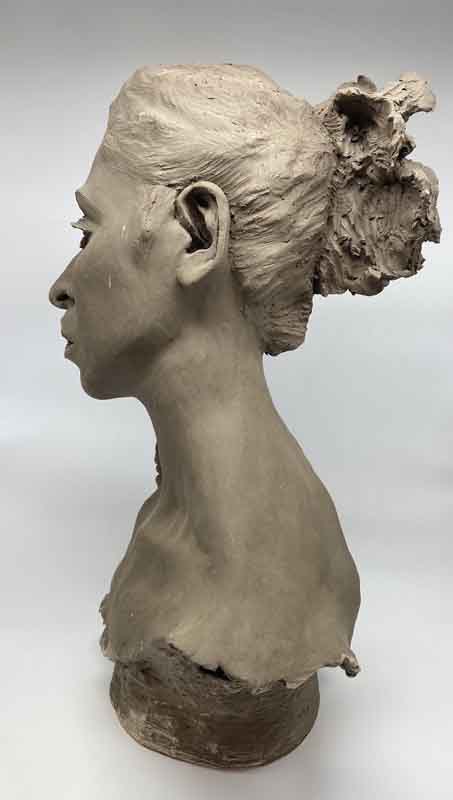 Practical Art: Terra Linda Ceramic Artists
Award-winning ceramics, local artists and studios – oh my!
If you are looking for a Marin-based art studio where you can practice your artistic expression with a hands-on approach, surrounded by equally passionate and downright talented individuals, then Terra Linda Ceramics Artists is the place for you. .
This studio was first founded in 1993 by Susan Hontalas, who taught for many years before passing the torch to the current director, Nadia Tarzi-Saccardi, in 2017. For three years, this art studio and its instructor are recognized locally for the amazing and diverse art they produce.
"It's nice to know that there is a place in Marin for ceramic enthusiasts to display their creations," said Tarzi-Saccardi. "Each year, advanced students take part in the Salon Marin fine arts exhibition. Many people in the studio's program win awards for their work. Additionally, many of our solo exhibiting artists have their work in Bay Area collections and galleries.
Tarzi-Saccardi is an award-winning, self-taught ceramic artist from Europe who first touched clay when she was just three years old. Although she grew up in a family that did not see the arts as a suitable career path, she could not escape the allure that ceramics had on her. As a young adult, she was admitted to an art school in France, but found the instructors sexist and rude, which prompted her to leave the environment. Throughout her life, although she has led in many different directions, clay has been a constant companion. It wasn't until Tarzi-Saccardi joined Terra Linda Ceramics and met Susan Hontalas, whom she affectionately calls "Art Momma", that she was driven to stick to her passion, exhibiting and eventually, to teach.
"As a teacher, I try to tell my students that they are entering a different space and time with ceramics," explains Tarzi-Saccardi. "You can't rush clay and you learn a lot about yourself as a person when you come into contact with a material. You realize you need patience – when you work with clay you start to ground yourself and realize that things move at a different speed. There is no instant gratification. We are part of a lineage, continuing this vast history that began with the first person to pinch their first jar 29,000 years ago. We continue to expand, and now there is even clay 3D printing! I see it as a privilege and an incredible opportunity to connect with someone very ancestral.
In addition to being an award-winning artist, Tarzi-Saccardi has a deep historical connection to her work. Her father, a renowned Afghan archaeologist specializing in the Buddhist period in Afghanistan, inspired her interest in the history of ceramics, which led her to continue her studies and publish on the archeology of Central Asia, with an emphasis on Buddhist studies.
For the past 15 years, she has taught ceramics to adults and children at Bay Area studios including Terra Linda Ceramics, Mill Valley Potter's Studio, and Walnut Creek Arts Center.
"One of the things that I find really exciting about thinking about clay is where the material comes from," Tarzi-Saccardi explained. "I'm still extremely excited that we're working with million-year-old decayed stardust. All of these elements in the clay and the glaze come from the universe, and some people say it all comes from a supernova explosion. There is an interconnection — it's a little esoteric, okay, but I find it fascinating. To think that we have the privilege of working with materials that have been buried deep in the sea, then traveled to the top of a mountain through the movement of tectonic plates, and then eroded those mountains again. We end up with this sediment which has undergone intense transformations that, through our recipes, we use for ceramics.
Tarzi-Saccardi credits artists who greatly influence new generations of ceramic artists, including Marin resident Richard Shaw, a master of the art of trompe-l'oeil ceramics; Jeff Downing, chair of the ceramics department at San Francisco State University; John Toki, a living legend and encyclopedia of ceramics, as well as a manufacturer of monumental ceramics; Claudia Tarantino; Michelle Gregoire; Lynne Meade; and Bill Abright.
"It's not about talent – whatever you want to do, clay will follow because you train it," Tarzi-Saccardi said. "You can do functional work, primitive work, very sophisticated sculptures and so on. There is something for everyone, and it is important to find a refuge, a place where touching this material becomes meditative, and where one is in community with oneself. You are not alone, but you are with many people in their area, doing their thing, and learning from them in this beautiful community.
California has a rich ceramic history, beginning in 1848 when ceramic products were in high demand for functional building needs such as tile and sewer pipe. Around 1910, a radical tile-making movement took place, the history of which can still be seen in older architectural pieces to this day.
In the middle of the century, between 1875 and 1931, the historically significant "Big 5" ceramic companies were created: Bauer, Gladding-McBean, Metlox, Pacific and Vernon. These companies produced vases, tiles, pitchers and plates and, with the exception of Vernon, are still in operation.
In Fairfax, from 1911 to 1918, Arequipa Pottery was founded by Dr. Philip Brown as a rehabilitation therapy program for women with tuberculosis. And, in 1948, Heath Ceramics in Sausalito was established by Edith and Brian Heath, where British-born Marin resident Daphne Ahlenius was hired by Heath to develop their signature glazes in the 1960s.
The California Clay Movement in the 1950s, also known as the American Clay Revolution, disrupted local clay culture and opened the doors to more artistic ceramic expression, shifting the medium from functionality to sculpture. Peter Voulkos led the revolution by creating free-form ceramic art, breaking with conventional movement. He was followed by other artists emerging at the time, including Ken Price, Viola Frey and Stan Bitters.
"If someone feels like they've learned it all, I don't mean outright they're wrong, but there's always more to discover," Tarzi-Saccardi said. "I call the chemistry of enamels witchcraft. The need to test things is always important because you can create something new and wonderful or something terrible.
Tarzi-Saccardi considers herself a strict teacher who prioritizes practice and working on small examples before diving headfirst into big projects. She encourages the extensive use of "test tiles" and miniature versions of projects to provide examples and studies of the effects of firing methods and glazes on larger final projects.
"As a teacher, you facilitate discovery and provide support for people to grow, and that's one of the things I love about my job," Tarzi-Saccardi said. "If I have a class of 20 students making a box, I get 20 different boxes. The same goes for children's courses; if I make them each make a penguin, I get 20 different penguins! It shows how unique we all are!
The Terra Linda Ceramic Artists program offers classes for adults; courses for teenagers and young people; special firings such as luster, decal, and pit firing; a variety of workshops; and statewide exposure opportunities for students enrolled in the program. According to Tarzi-Saccardi, the names to watch in the Marin ceramics community are Nicolas Vasquez, Brianna Woodward, Jo Clarke, Emeigh Poindexter, Geraldine GaNun, Melissa Woodburn, Erin Quin, Cathie Blackstone, Antonia Lawson and her mentor, Susan Hontalas .
"My dream and my vision for the Terra Linda Ceramics Artists is to create a fully-fledged ceramics community," Tarzi-Saccardi concluded. "I want to find a way to give everyone the chance to have the full range of ceramic experiences. It was a great honor and a lot of joy for all of us to receive the Best of Marin for the best studio and instructor three years in a row, and this year for me to be awarded the best artist.
Registration for fall classes at the Terra Linda Ceramics Artists studio is open to the public and fills up quickly. The studio is located in San Rafael at the Terra Linda Community Center, Room #1, 670 Del Ganado Rd.
For more information or to get in touch with Terra Linda Ceramic Artists, visit the website at terralindaceramicartists.com or send an e-mail to [email protected].