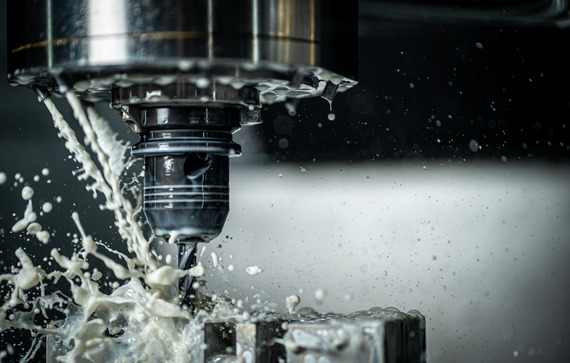 Fully synthetic metalworking fluids
Find help developing fully synthetic, high-lubricity metalworking fluids for high spray pressures, safer work and increased environmental awareness in aluminum cutting operations.
Clariant's complete set of additives, corrosion inhibitors and agents includes:
A large portfolio of water-soluble polyalkylene glycol (PAG) lubrication additives well balanced in lubricating, foaming and wetting properties to facilitate formulation. Highlights include Genapol® RPF 1720 and 1740 lubrication and lubrication additives, specifically designed for use in fully synthetic fluids. They are resistant to water hardness, acids and alkalis and offer low surface tension as well as a low contact angle on steel.
Extreme pressure / anti-wear additives which are water soluble, low foaming and provide excellent performance under extreme lubrication conditions.
Multifunctional Corrosion Inhibitors which act as a corrosion inhibitor, hydrotope and lubricant.
Low odor and low foaming neutralizing agents which improve the odor of the final product and also act as a coupling agent to potentially reduce the complexity of the formulation.
Join this webinar to:
Access a comprehensive package of low-foaming, highly lubricating, and highly stable additives and guide formulations for fully synthetic removal fluids that increase machine efficiency
Reduce formulation complexity and toxicity by reducing the amount of critical components
Learn more about application-tested solutions that deliver specific benefits and synergies for high-performance cutting fluids
---
Our speakers are:
Dr David Schaffel World leader in the Industrial Lubricants marketing segment
Dr. Steffen Glanzer Head of global application development