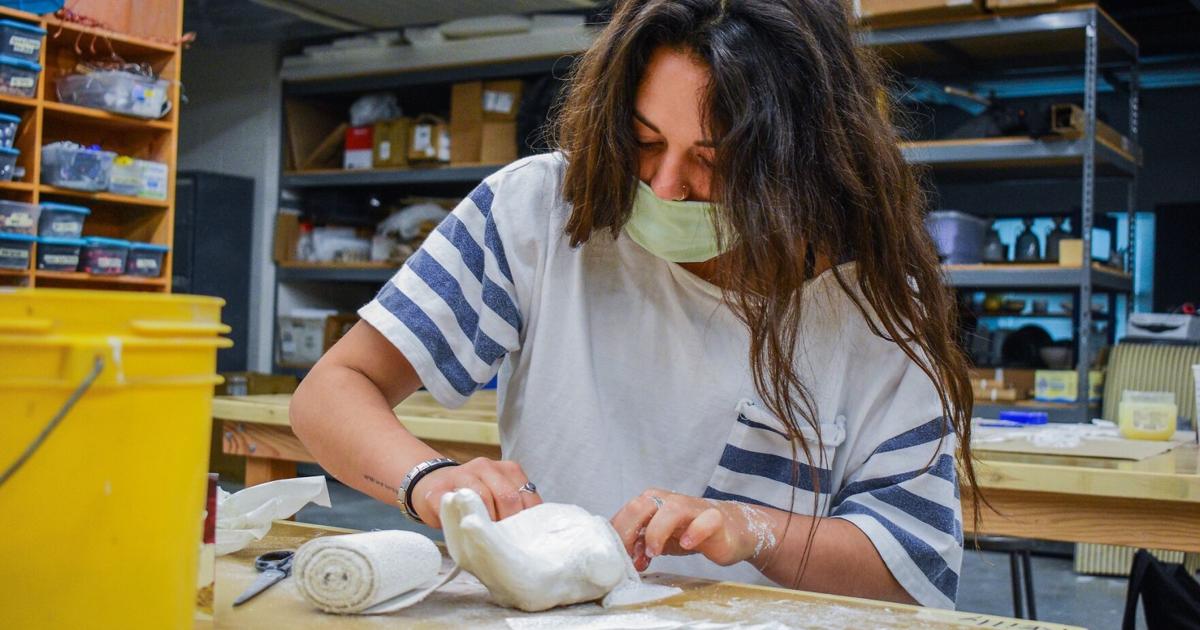 From ceramics to photography, GU's new Art Fusion class has it all | Culture & Leisure
From body casting with clay to painting with acrylics, Gonzaga University's newest visual art class, Art Fusion, has it all.
Art Fusion is a special themed art course that focuses on mixed media art and how to create art by combining various mediums and media. It's a whole new class, because it's the first semester that the art department offers him.
Although the class is technically a visual arts class, it combines both visual literacy and visual arts to allow students to see and create art in a different way. What sets this class apart from other art classes, according to class teacher Jamie Nadherny, is that it's not medium-specific.
"[The course] gives students the opportunity to work with painting, drawing, photography or clay," said Nadherny. "So they can experiment with different mediums and find out what they like best."
Nadherny, an assistant art teacher at GU and a mixed media artist, has been creating art since she was a little girl and enjoys being able to apply her passion to her Art Fusion class.
Growing up, Nadherny's taxidermist mother exposed her to many materials and processes, which taught her the power of different artistic mediums. She hopes to pass on this knowledge from her upbringing to her students. Therefore, when planning the course, Nadherny believed it was important that it emphasize a multitude of artistic mediums.
"There is a beautiful parallel that can occur between mediums," Nadherny said. "And just beautiful possibilities."
The course is structured in such a way that students do not stay in the same place every day. Rather, they go to different areas of the art department, such as the digital media or ceramics room, to experience different types of art.
Ben Miller, a senior art minor at GU, is currently enrolled in Art Fusion and enjoys the creativity and flexibility the class fosters. He finds this class to be unique because of the number of different materials it uses.
"[Art Fusion] work on [cultivating] creativity and get out of the mindset that everything has to be perfect," Miller said.
Students learn a new art style, material, or technique in each class, and then must apply it to their next art project. This semester, students will create a total of six art projects.
A key concept that Nadherny teaches his students is that sometimes to make a statement or concept more powerful, they need to use two or three mediums. Indeed, one way of working can help inform other ways of working.
Nadherny recommends this course to any student interested in art because of the interdisciplinary nature of its teachings.
"[Students] learn about experimentation and art history while being able to work with their hands by experimenting," Nadherny said. "But they can also have fun."
She believes her Art Fusion class will provide her students with the tools they need to be savvy consumers of multi-dimensional art and artists. Her overall goal is that her students can visit museums or galleries in the future and see art in a different way.
Miller finds this class pushes him and his classmates to step out of their comfort zone by creating art with different materials and styles. He also believes that Nadherny creates a safe and open space for each student and their art. Her favorite part of the class is seeing her art projects completed and knowing that her hard work has paid off.
Art Fusion is open to students of all years and majors, regardless of experience. Miller thinks this course is perfect for artists of all levels because of its flow and openness.
"If you don't know what to do with art, [the class] gives you very different exposure to different things," Miller said. "And with that exposure, you can sort of figure out what you like, what you don't like."
It is currently planned that the class will be offered every spring semester going forward. Nadherny hopes the easing of COVID-19 regulations will allow her future classes to delve into the Spokane art scene and get even more exposure to different types of art.
Nadherny is also excited that more students are taking this course, as she hopes it can spark a love of mixed media among a wider group of people.
"This course is a great opportunity for any student interested in learning about the arts," Nadherny said. "Or [anyone] who might be a bit unsure of which medium they might want to pursue in the future.