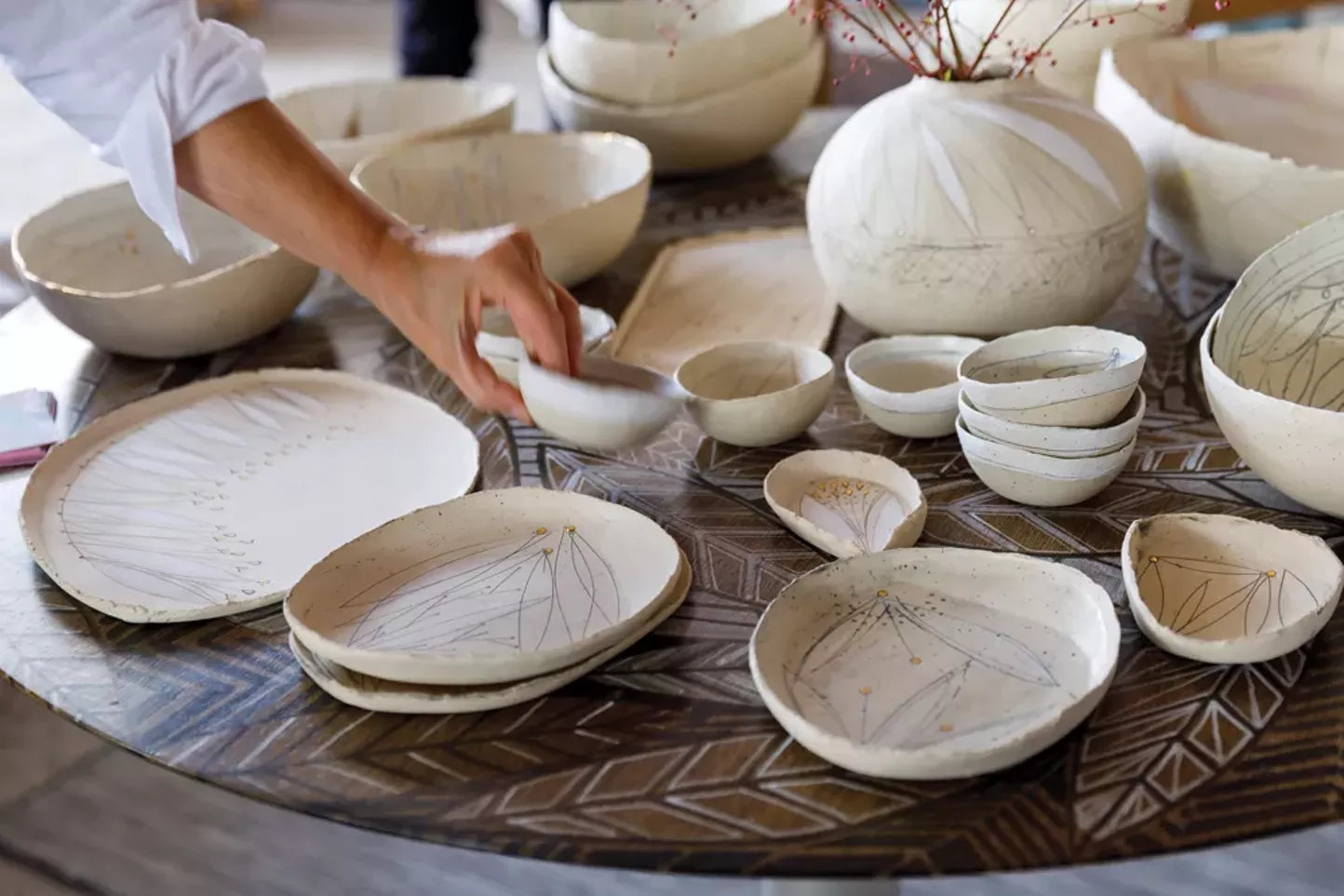 Found in Translation: Helen Prior reinvents ceramics and textile design | Field + Supply @ Timeline | Hudson Valley
Block printing, a method of creating textile designs that originated over 4,000 years ago, is a painstaking process that involves hand-carving a design into a block of wood, applying a dye over the relief, then stamp it over and over onto the fabric to create a repeating effect. Naturally, the process has long since been superseded by faster methods like screen printing and digital printing, but in the Kingston studio of ceramist and textile designer Helen Prior, a native of Warwickshire, England, who lives in the Vale of the Hudson for almost 15 years. , the process continues in a modern and refreshing form.
It all starts with a simple slab of clay, the cornerstone of all creations in Prior's "Clay to Cloth" line of ceramics, fabrics and wallpapers, which she launched in 2018.
The slab, which Prior calls a "manuscript", is where she first explores her designs. She decorates the still soft clay with freehand carvings and stamps, combining influences from the natural world and stylized patterns drawn from a vast archive of historic textiles dating back to the 1880s that she amassed over the course of her career. in the fashion industry by developing prints for tastes. by Anna Sui, Rebecca Taylor, Trina Turk and Diane von Furstenberg.
But after more than two decades of working with other designers, Prior craved a creative outlet where his own vision could take center stage. "With fashion companies, you really work in the style of the designer, but it got to a point where it was really difficult to have my own voice," she explains. After she and her family moved full-time to New Paltz, she began spending more time at the Women's Studio Workshop in Rosendale, exploring her passion for ceramics, an art form she had studied since she was in high school.
"It was really a great springboard for me to explore ceramics in my free time," she says. "Then I started decorating my ceramic pieces and doing this textile-on-ceramic process and I thought, well, this looks interesting and new, and it just seemed like such a beautiful way of working."
In 2019, she opened her eponymous studio in the Shirt Factory in Midtown Kingston, whose history of textile manufacturing suits her work perfectly. The following year, she launched her first collection of ceramics, fabrics and wallpapers titled "Cross Pollination", a reference to how she seamlessly translates her handwritten designs between mediums.
For her ceramics, the manuscripts become the master prints from which she draws the decorations of her bowls, vases, dishes and trays, handcrafted and turned on a wheel. To make her textiles and wallpapers, she photographs the manuscripts, then refines the patterns in Photoshop, creating a repeating pattern that can then be digitally printed on Belgian linen by the company outside of Philadelphia that makes her pillows. or turned into wallpaper by someone else in Detroit.
Unlike the austere minimalism that dominated much of the interior design world for over a decade, Prior's work is a celebration of decorative art history, distilled into a version that suits many different contemporary aesthetics. "Decoration has always been there throughout history," she says. "I believe it's something that always comes and goes, but I believe people react to it and it makes things stand out more and pull people in on an emotional level."
Shop Helen Prior's work through Chronogram's partnership with Field + Supply here. Want to see his work in person? Helen will be at Field+Supply's Spring MRKT, May 27-29, at Hutton Brickyards in Kingston. For more information, visit Fieldandsupply.com.