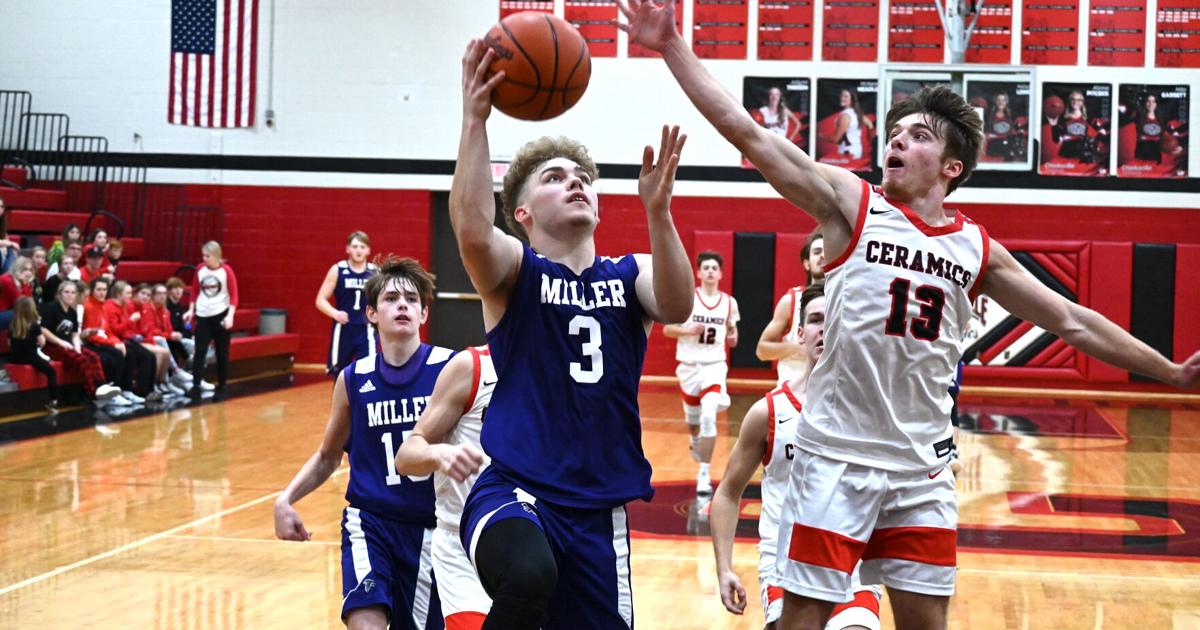 Falcons take advantage of a strong second quarter to sink Ceramics | Sports
CROOKSVILLE — The Miller boys' basketball team capitalized on a strong second-quarter run to pull away from Crooksville in a 71-49 victory on Dec. 28.
The game got off to a lively start as the Ceramics took an 18-12 lead after the first quarter. Ryan Moore had a hot hand early with nine points. Konlan McIntyre hit a three to help the hosts lead.
"I think we played the first 14 minutes well because we executed," Crooksville head coach Travis German said. "The last two minutes we didn't perform, let them get a double digit lead on us and go from there… We're a young group, we knew this was coming so we're improving but we are not yet where we need to be.
The second quarter started with a Raygen Wolfe three-pointer, but then it all fell apart for ceramics as Miller began to find his form. The next five minutes saw the Falcons go on a 17-0 run to take a 32-21 halftime lead.
"Phenomenal," Miller's head coach Sean Bartley said when asked about the performance. "The second quarter was the difference in the game. That 20-3 swing, that was it, I thought we increased the pressure defensively and they didn't react very well.
After the break, the Falcons continued to soar. Kylan McClain was as hot as the human torch in the third quarter, draining four threes as the visitors scored 21 points. Despite Crooksville's score of 20, Sam Rutter was a force in the paint, as he had three consecutive blocks.
McClain kept up his fine form in the fourth, scoring 14 points to really put the finishing touches to a dominating win. Miller's defense showed up again, limiting Crooksville's offense to just seven points in the final quarter.
While they certainly closed this one out, Bartley still thinks there's room for improvement when it comes to finishing games.
"It's our biggest thing," Bartley said. "We were in a lot of games, we led Rosecrans, led Bern Union, we had to learn how to finish."
McClain finished with a season-high 39 points on 15-of-22 shooting. Rutter had a double-double with 11 points and 11 blocks. Quin McCabe added ten assists.
For ceramics, Moore was the leading scorer with 17 points. McIntyre added nine.