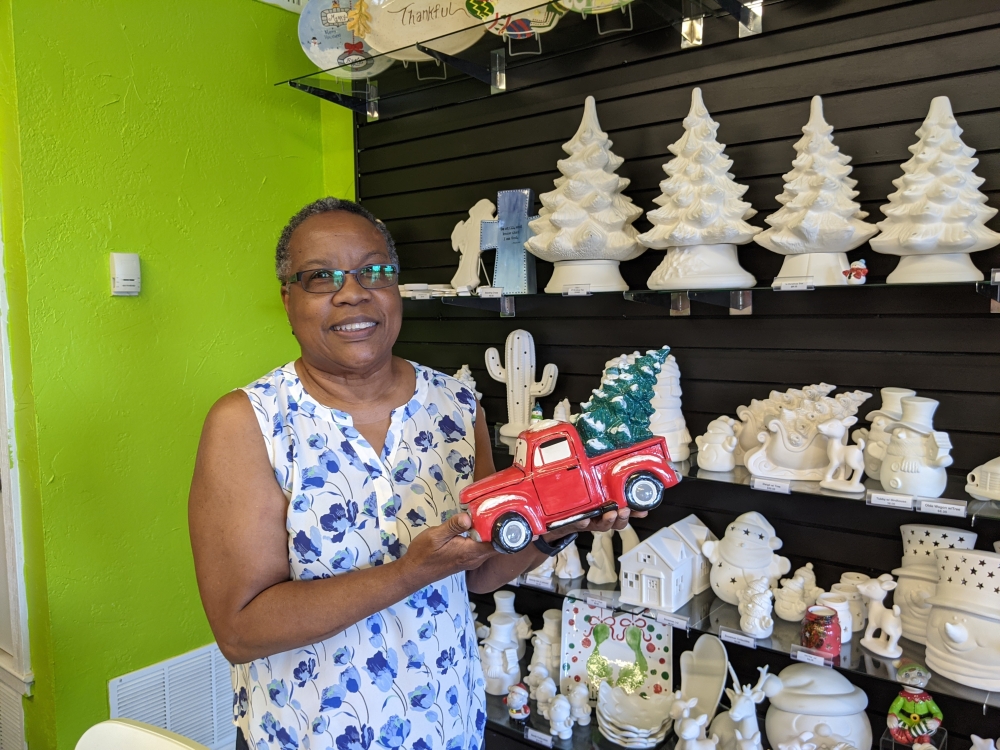 Ceramics N More pottery painting studio in Pflugerville encourages creativity and self-expression
Owner Willie Jackson opened Ceramics N More in Pflugerville. (Carson Ganong/Community Impact Journal)
Prior to opening Ceramics N More, Willie Jackson served in the US Air Force for 20 years.
For most of this time, Jackson served in parts of Asia, where she learned to work with ceramics. After his service ended, Jackson worked at Dell for 10 years before deciding in 2006 to open his own ceramics studio.
"After 10 years, I gave up corporate life," she said. "I used to do ceramics when I was in Asia and decided that was something I could do here."
She first opened Ceramics N More in Pflugerville, then moved to Cedar Park and several years later returned to her original location in downtown Pflugerville.
Jackson describes Ceramics N More as a "paintable pottery shop" that offers a variety of pre-made ceramic pieces, ranging from practical items like mugs and bowls to more decorative items like ornaments and sculptures.
Customers choose a piece they like, then use Ceramics N More's supply of glazes to paint the chosen piece. The ceramic is then fired in a kiln to set the colors, after which the customer can return to collect their finished piece.
Jackson said one of the things she enjoys most about working with ceramics is its ability to facilitate communication and connection between people as they work.
"People can have conversations with each other and talk and laugh and share ideas with each other," Jackson said. "It's a feeling of calm in the midst of a very stressful environment."
While ceramic painting is the company's most popular service, studio clients can also work with fused glass or try their hand at using a potter's wheel to make their own pieces.
Additionally, Ceramics N More hosts frequent themed workshops and events, including an upcoming Christmas Tree Painting Party on November 6th. Although the store closes to the public at 6 p.m. most days, the time after that is set aside for things like private birthday parties and team-building events.
Whatever the occasion, Jackson said she helps clients bring their vision to life and encourages them to be creative and unconventional in their work.
"This is the part where your imagination can come out and shine and let you be yourself, because now you've painted something like you want the world to see and not what the world wants you to see," Jackson said. "I think that's pretty cool."
Ceramic N Plus
101 Pecan Street West, Pflugerville
512-906-0207
Opening hours: Tue-Wed. 11am-5pm; Thu.-Sat. 10am-6pm; Sun. 12pm-5pm; Mon. closed
www.cnmpottery.com