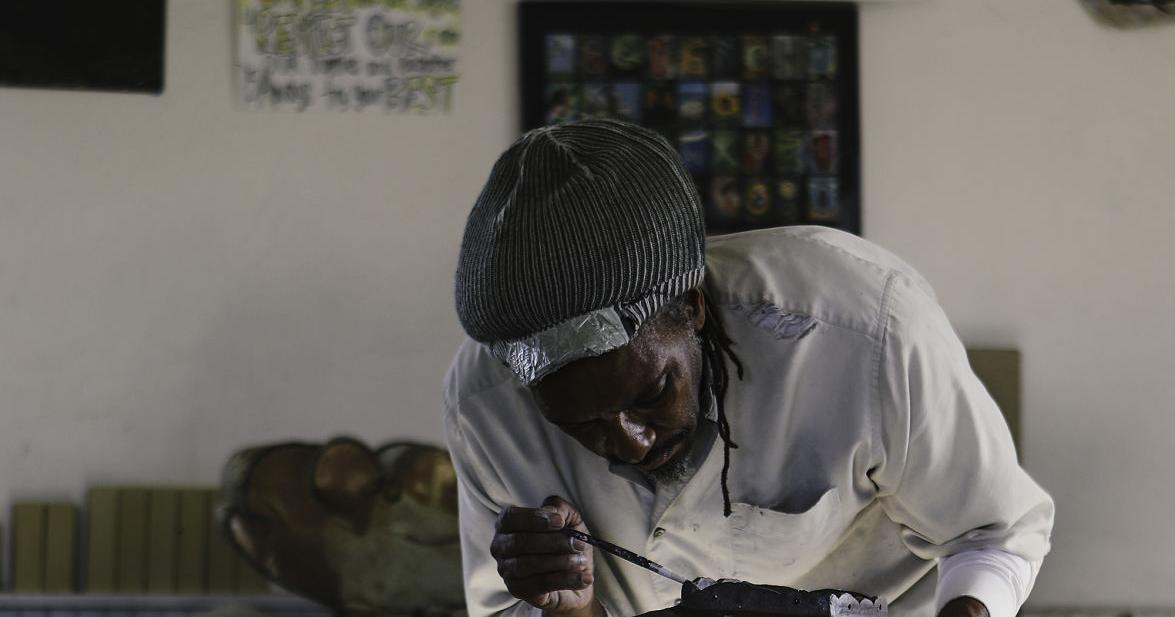 Casting Multitudes: Potter Chas Frisco Talks Ceramics, Football, and the Beauty of Scalability | Cover story
SVEA CONRAD

Chas Frisco is comfortable with unpredictability.
As a potter and a football coach (he's actually both) you have to be – when a flame flickers a little differently, a glaze leaks unexpectedly, salt you've added to the sawdust of a campfire, a pass that has gone sideways or a goalkeeper having a night off can completely change the results.
"In ceramic, you're not quite sure what's going to happen every time," Frisco said.
The beauty of it? You can always reroll something. Go back to the wheel, or the table, or the slab and start over. Or accept the slightly different result, nevertheless consider it worthy. This is something Frisco learned early on. That and the clay, like the stages it goes through to become something, are nothing if not forgiving.
"I try to avoid throwing things in the trash," he said. "I don't know who is going to react to what, if a piece is going to speak to someone in such and such a way."
Born and raised in Kansas, Frisco's first experience with the material was in an 8th grade art class. His parents, although not artists themselves, encouraged their children – Frisco is the youngest of four – to explore all kinds of mediums. His siblings were all interested in drawing and painting, but Frisco soon realized that three-dimensionality was more his calling.
"I was like, 'I have to figure out how to keep this thing in my life. "", Did he declare. "Initially, I wanted to be an architect, so it was also a matter of doing that and working in [pottery] the same time."
After completing her Bachelor of Fine Arts at Wichita State, Frisco would earn her graduate degree from the same university – this time focusing entirely on ceramics.
He still laughs at his mother's reaction when he told her he would pursue ceramics full time.
"When I told her I wanted to go to school to be a potter, she thought I had said poor."
He likes to use the term instead of sculptor or ceramist because, he says, it keeps him on his toes.
"It checks my ego," Frisco said. "The ceramist looks like a scientist, the sculptor looks like a big deal. As a potter, I want to align myself with the idea that potters work hard but are always creative, they cleverly dig clay and throw it away.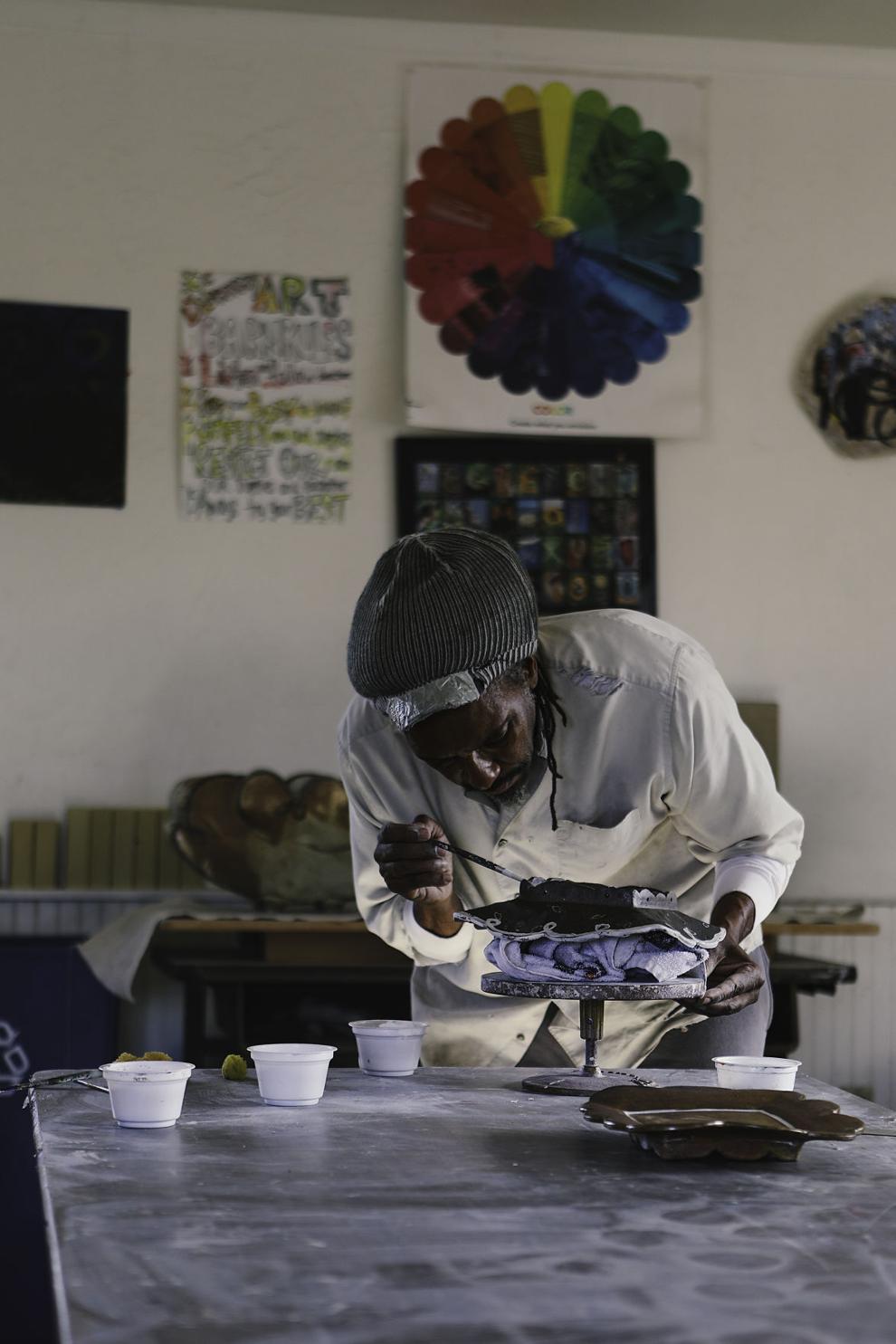 Now a 30-year veteran of the medium, Frisco's work straddles the line between functional and sculptural, ephemeral and physical. Landscapes, dreams and neat details interact in the forms that emerge from the pit fire – which he digs and builds himself – or from the oven.
His work is not limited to cups and pots but extends far beyond: bracelets, boxes, clouds, goblets, plates and incense holders, a large face that can serve as a pot, landscapes and bulbs and forms to which he lets the viewer assign meaning and function.
Ambiguity is an old friend. When someone asks Frisco what a certain room might be used for – to drink or to display or to use as something else – he lets them decide. Who is he to define function when that would limit the possibilities of so many of its objects?
Frisco points to an elongated oval vessel in his workspace at the Museum of Northern Arizona's Milts Barn, one of two studios where he also teaches.
"The lines on this container are obscure enough that it could be something, a wave or the bottom of a cloud." He said. The container, oblong and white, sports a lid, an undulation of black lines of paint adorn its base. "It's ambiguous, but I still want to guide you so that you can put things together in your mind, so that your own details become something."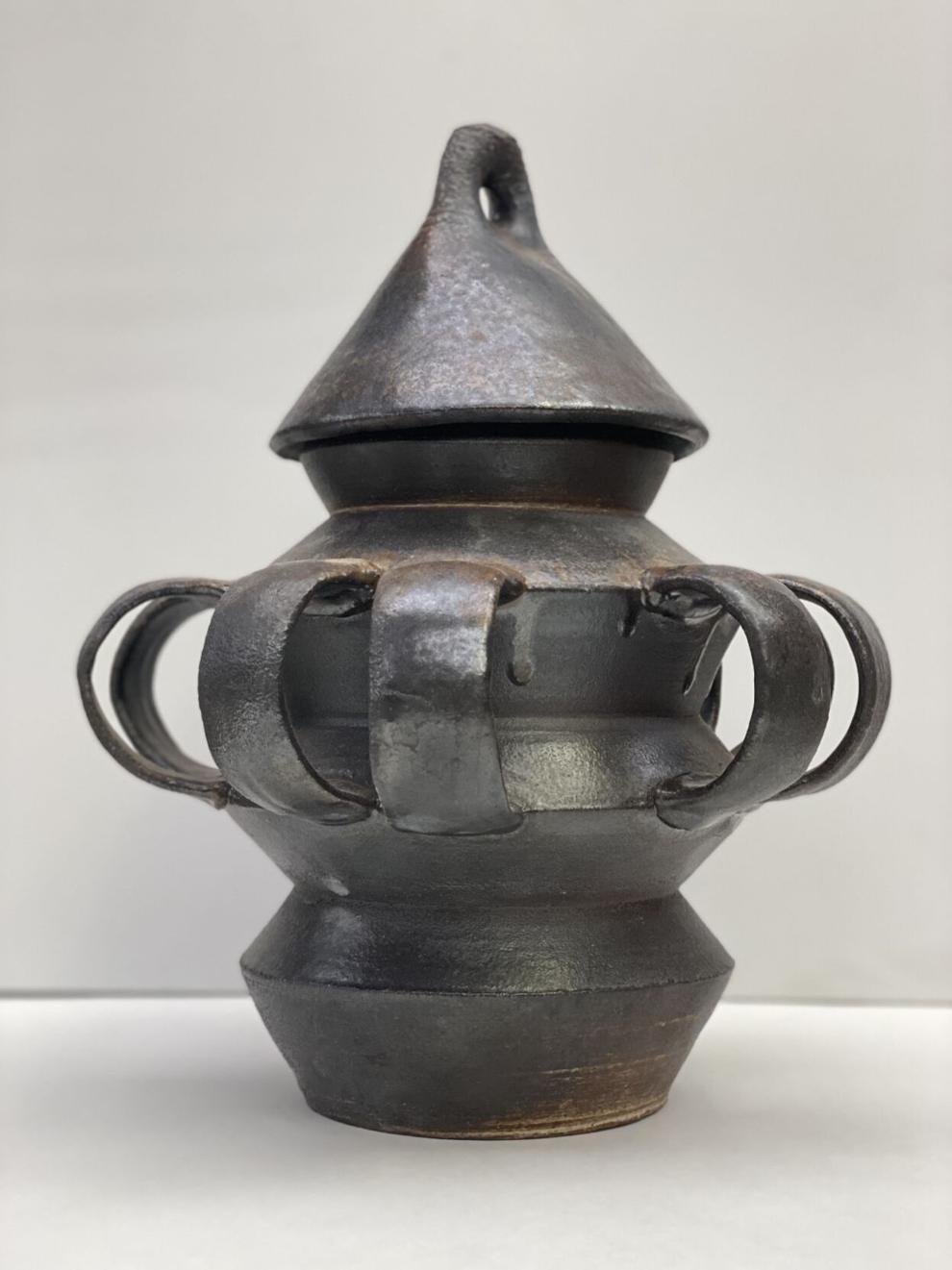 "Someone said it looked like a sheep, and I was like, 'Good, but it's just a square plate with lines.' And that's exactly what I want my work to do, for people to take it somewhere else without requiring a lot of explanation from me.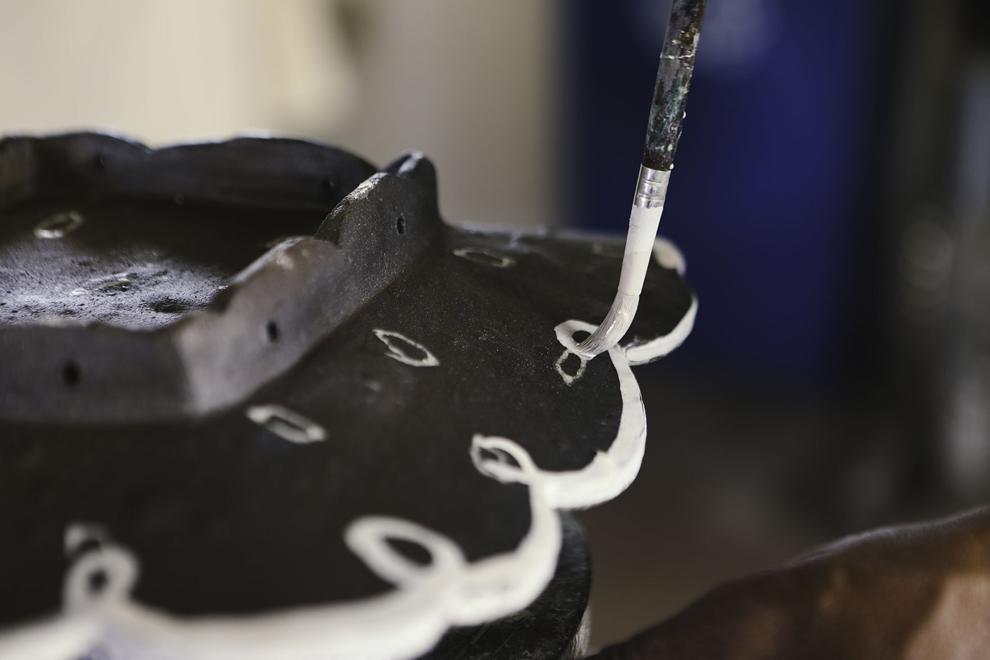 It's seemingly endless renditions like these that keep him motivated.
"The fewer obstacles I give myself, the easier it is to do," he said.
Pottery isn't the only thing in Frisco's wheelhouse. Football also occupies a large part of his time.
"As a secondary activity, and until I became an 'art star' or a teacher, I turned my footballing hobby into a footballing career. This decision allowed me to make art by day and coach football by night," he said. noted.
He's coached all levels, from college teams to kids as young as 5 and 6, for almost as long as he's been throwing pots. The two disciplines complement each other in its universe, active processes whose evolution requires great attention and great technicality. Where some might see the two as opposites, Frisco has always seen them as harmonious.
"As an artist, I always think about 'what if,'" he explained. "I try to teach the same thing to my players. I want to make players who will be brilliant, able to get out of a difficult situation, whether you are a goalkeeper or a defender, try something a few times, find a way out of trouble or a good place.
He takes one of his sculptures as an example.
"What if I did this and this move and made a plate, you could use it like that, it could be decorative, it could be something you use every day. It can hold food. So many things can happen.
It's abstract, of course, but he often comes back to it, always combining sport and art in his life.
Frisco is currently taking a hiatus from coaching in order to focus on ceramics, attending craft markets and showing up in the arts community, teaching and selling his work, but he plans to continue doing both at the future.
"Being involved in my community is important, so coaching the sport and showing and teaching the art allows me that."
To see more of Frisco's work, visit his Instagram at @chasarts. Frisco will teach a Wheel Throwing and Hand Building class at the Museum of Northern Arizona on Mondays from 12-12:30 p.m. and 5-7:30 p.m. from January 10 through February 14. The next sessions will also take place from February 27 and April 18. Frisco will be teaching a private hand-building class at Coco-op every Tuesday from January 11-February. 15. For more information or to register for classes, email Firsco at [email protected]