bouke de vries on repurposing broken ceramics into fragmented porcelain sculptures
dutch artist bouke de vries transforms shattered ceramics into fragmented porcelain sculptures that celebrate "the beauty of destruction". born in utrecht, the netherlands, de vries studied at design academy eindhoven and central st. martin's, london, and worked in high fashion before turning to ceramics conservation and restoration. his deconstructed porcelain artwork showcases his skills as a restorer, breathing new life into damaged pieces that reveal parts of their history.
with his work currently featured in two exhibitions, one at london's house of modernity and the other in the new galleries at sotheby's bond street, designboom spoke to de vries to learn more about his creative process and on the philosophy of kintsugi, which he uses in a unique way in his works. read it interview in full below.
bouke de vries, guan yin with a nimbus of saucers, 2019, 18th century Chinese blanc de chine porcelain figure, 18th century Chinese porcelain fragments and wooden base
all images courtesy of adrian sassoon, london, unless otherwise stated
designboom (DB): what made you move from the restoration of ceramics to an artistic practice that celebrates "the beauty of destruction"?
bouke de vries (BdV): although I attended art school as a teenager, I did not develop my own artistic practice. then, in my late twenties, I converted to ceramics restorer. I absolutely loved the job, but there was still something unresolved inside me that I needed to get out of my system. little by little I decided to use the material – and the techniques – with which I was working. I looked at the issues of perfection versus imperfection, the beauty of damage, and the place of ceramics in world history, how something like blue and white porcelain became part of the history of commerce and world culture.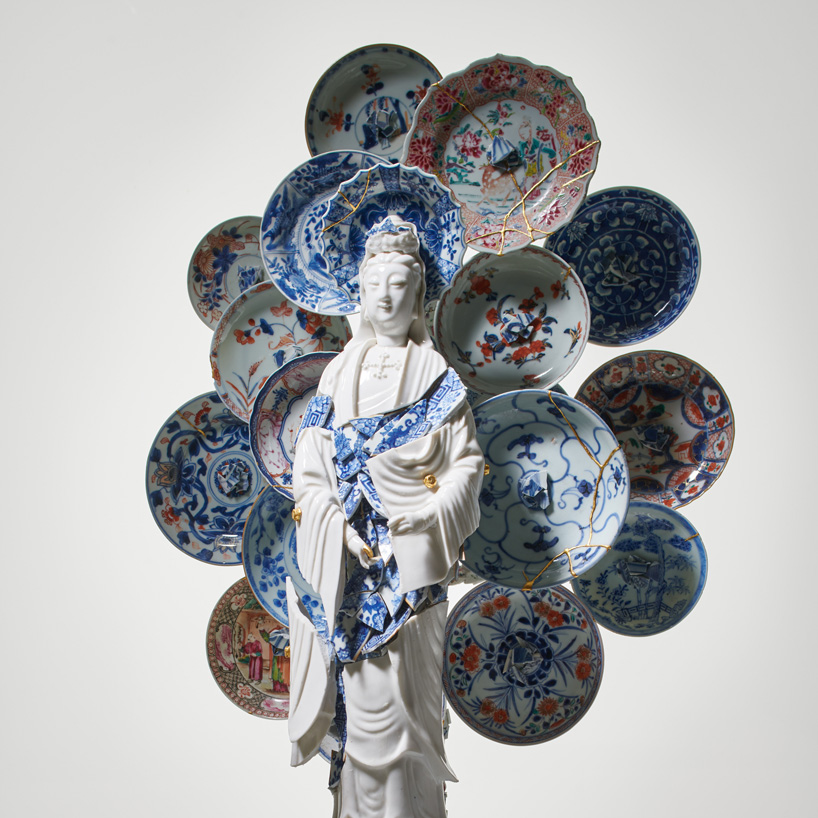 bouke de vries, guan yin with a nimbus of saucers, 2019, 18th century Chinese blanc de chine porcelain figure, 18th century Chinese porcelain fragments and wooden base
DB: How do you start working on a new piece? Do you work with already broken ceramic pieces or do you find a ceramic object that you love and break it into pieces to create something new?
BoV: the starting point is broken ceramics – things are already broken and often thrown away or devalued because of the damage. but to me, even a seemingly small and insignificant fragment can be imbued with the power of its original creation. when I first start a piece, the broken object itself suggests what I should do with it. as my practice has developed I also sometimes seek out a particular type of ceramic but this can take time.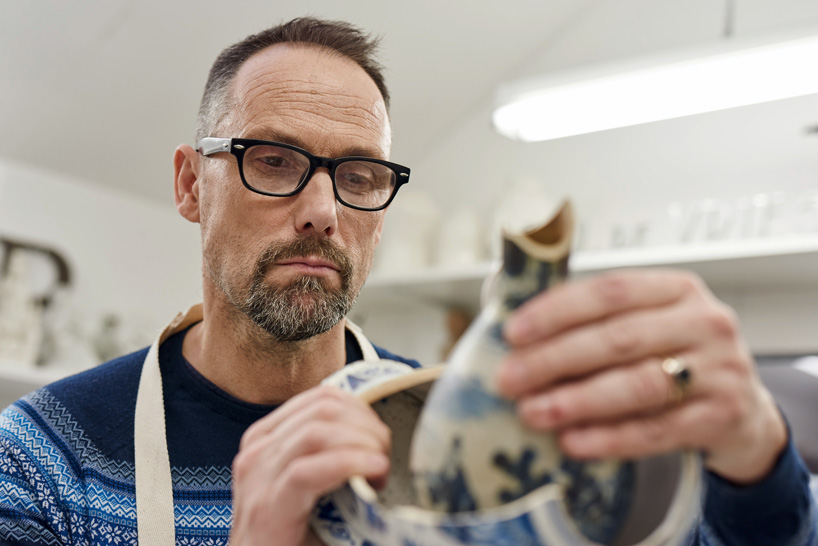 DB: how do you select the pieces you choose to work with? are you looking for an iconography and/or particular shapes?
BoV: my main criterion is that the original object is of good quality. of course it's subjective but I have a certain aesthetic and I'm looking for objects that go with it. most of the ceramics I use are of Chinese origin; the quality is amazing, and they have been the greatest producers of ceramics throughout history.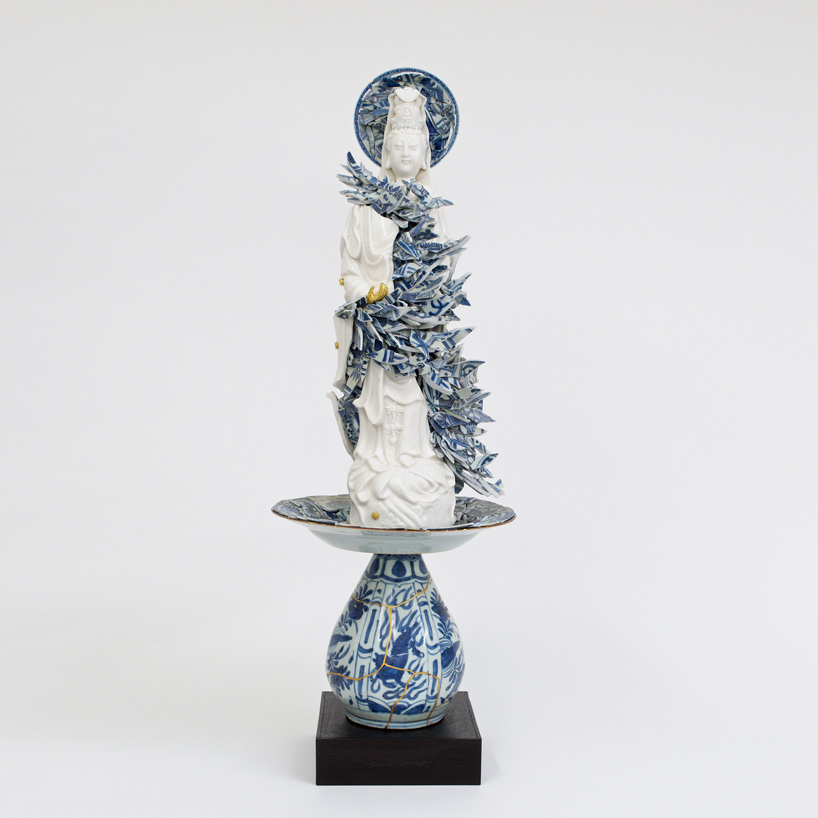 bouke de vries, guan yin in a cloud of shards, 2019
17th century Chinese blanc de chine porcelain figurine, 17th century Chinese porcelain fragments and wooden base
DB: In some of your pieces, you use gold lacquer to highlight the repaired cracks. what motivated your interest in the kintsugi technique?
BoV: the philosophy behind kintsugi aligns very well with one of the starting points of my practice. I believe that something damaged can still be beautiful. it is readily accepted in antiques (the venus de milo is famous in part because it has no arms) but in ceramics damage is generally frowned upon. with kintsugi, damage is seen as part of a piece's story: rather than hiding it, it is celebrated as part of it. I try to express it in my own way.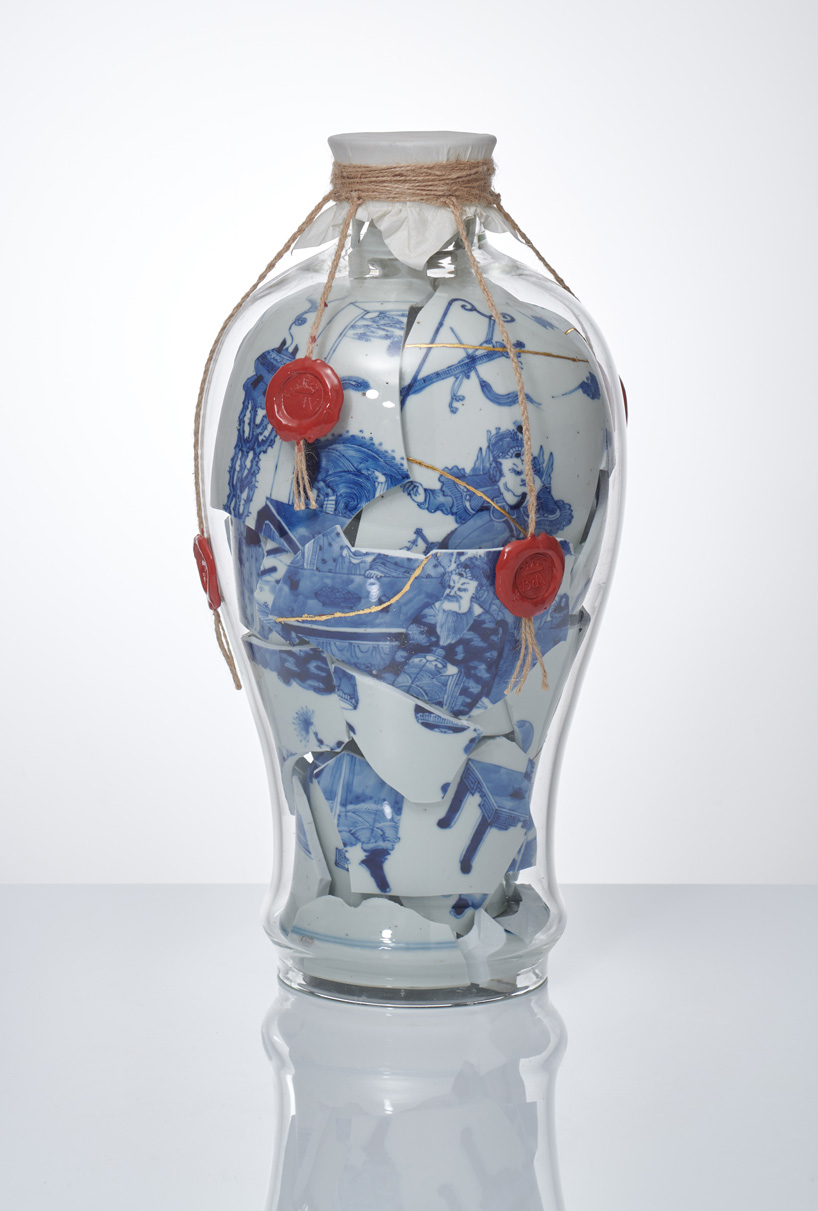 bouke de vries, memory vase lxvii, 2020, contemporary glass following the original form of its content; the collected remains of an 18th century qing dynasty chinese porcelain vase with parchment paper cover
DB: you recently designed the entrance room to the new Sotheby's exhibition space with the adrian sassoon gallery. What was your vision and process behind this large-scale piece?
BoV: the order for the gallery entrance was really exciting for me. I wanted to create something dramatic, something daring and unexpected. I piled up broken ceramic fragments (which are of course the basic raw material of my sculpture) like a large ruined structure and, by inflating them photographically on a large scale, they acted as the building blocks of a structure old while celebrating ceramics as a medium.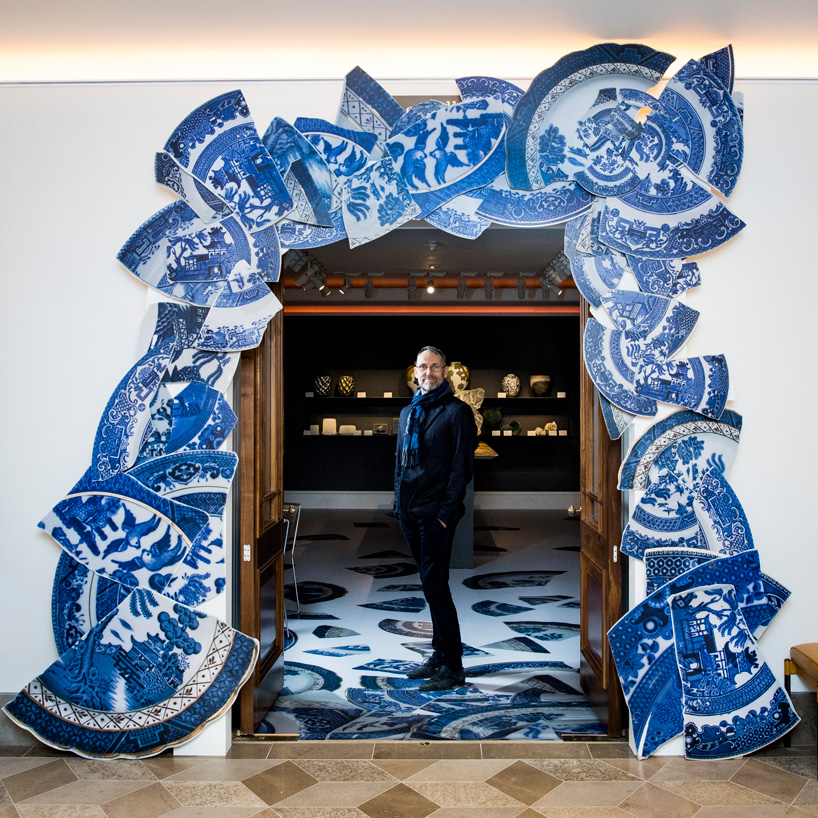 the entrance room at sotheby's, london
image © tristan fewings/getty images for sotheby's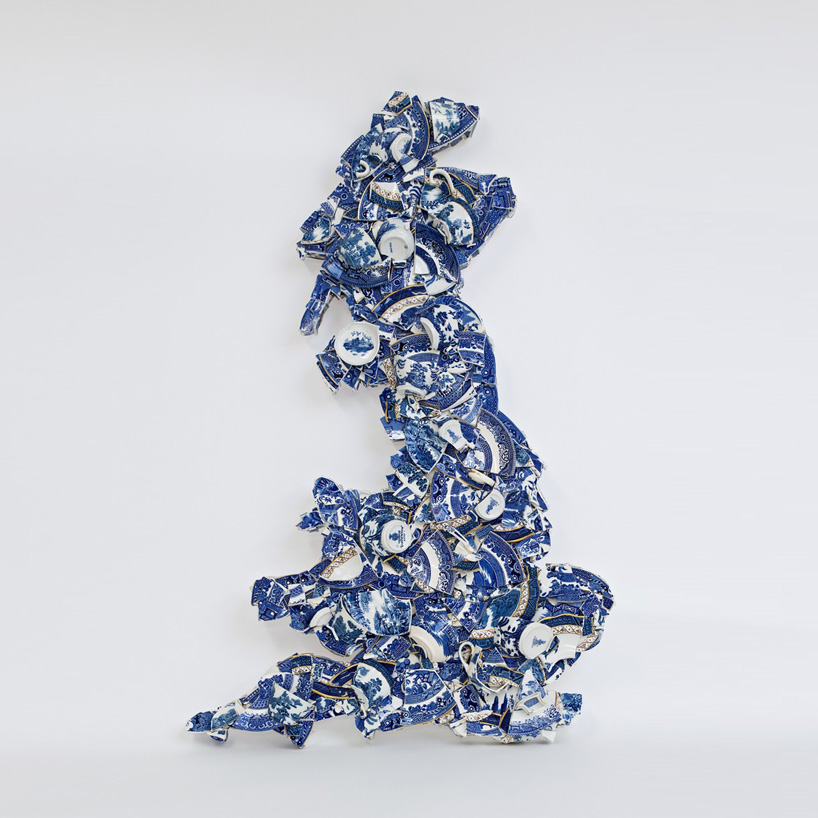 bouke de vries, homeland britain ii, 2020, fragments of 20th century english blue and white earthenware