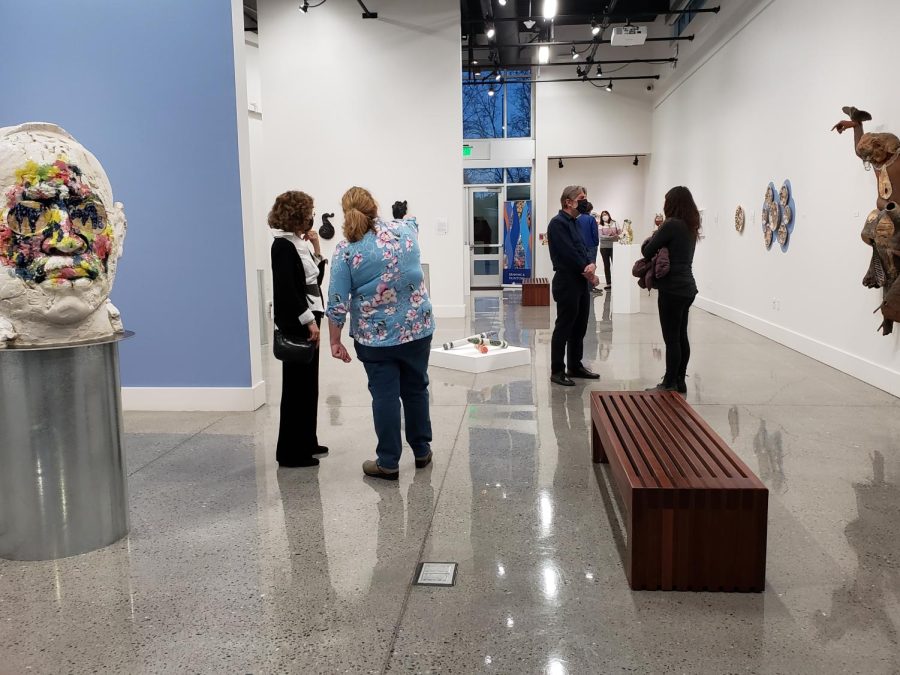 Art gallery exhibition explores identity through ceramics – The Connection
Previous picture
Next frame
information section
information content
Photographs by Rianne Herrera
In its first art exhibition since the campus closed in 2020, the Cosumnes River College Art Gallery opened the "Real ID" exhibit on Friday.
The exhibit features 30 works by eight ceramic artists curated by art teacher Linda Fitz Gibbon. Each piece explores identity and its complexities primarily through an abstract lens.
Fitz Gibbon's inspiration for curating these pieces and for the title of the exhibit itself can be linked to the actual ID cards that have recently been put in place in California.
"When the government came up with the idea of ​​creating a map that was 'real', it made me think 'what does identity mean?' It means something different to everyone. And it could be something that changes over time," said Fitz Gibbon. "It can't just be put on a card, your identity. It's not just your name and where you live, right?"
Although each piece in the exhibition relates to identity, each artist expressed a unique aspect of their own identity, whether it be race, gender or sexuality. Even health was seen as a facet of identity, as depicted by artist Shenny Cruces in her 'Breastplates' piece, made of ceramic plaques and linked to her identity as a breast cancer survivor.
In her artist statement, Cruces explained how the plates themselves were given to her by another breast cancer support group survivor. Two plaques in the room feature decals of Cruces' own mammograms, along with other plaques showing the chemical composition and botanical origin of the breast cancer drug Taxol.
Cruces said one of the most fascinating parts of clay is "the memory it holds."
"I think the beauty of clay is that it's so responsive to us, to our bodies," Cruces said. "When we sculpt and make things out of clay, it reacts to us in a physical way, so I think maybe that's where I see the identity that's inherently tied to ceramics."
"Black" was another series of works exhibited by artist Maya Vivas that explored the artist's identity as a black person. In his artist statement, Vivas explained that the sculpted black organs "establish a direct link with the auction of slaves, involving the viewer as a participant in the capitalist game of buying black goods" and are exhibited for the viewer to "judge, revere, gawk, ponder, and covet" in the same way black bodies often are.
Photography professor Patty Felkner shared how she originally interpreted "Black," as well as her amazement at the piece after reading the artist's statement.
"When I first saw this one it really reminds me of a wave or hair, and then when I was just reading the statement, you know, what the artist puts in and what the viewer takes away sometimes is so different," Felkner mentioned. "I really didn't see it as colonization or anything to do with the commodification of the black body or anything, but now looking at it, I kind of see it."
Fitz Gibbon said the exhibition took over a year to put together and noted that the exhibition was only part of a larger project by the National Board of Education for the Ceramic Arts titled "Fertile Ground".
"And you know, you can only select cherries. I mean, I'm sure there could have been other choices too," Fitz Gibbon said. "That's what makes you so humble. Look it's all made of clay, and yet each artist approaches it from a different point of view.
The "Real ID" exhibit will be on view at the art gallery until March 29 and will include an NCECA reception on March 17. More details about the exhibition are available here.