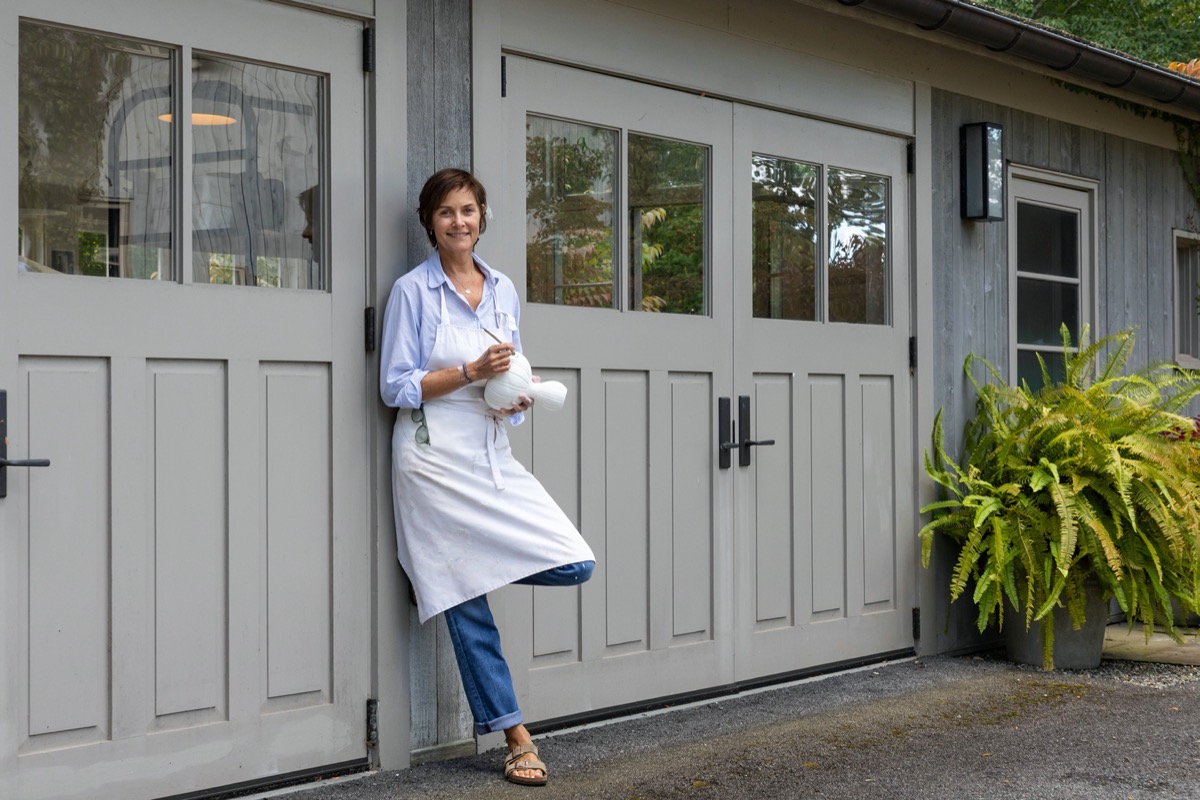 All Fired Up: Carey Lowell on Ceramics
Carey Lowell, who just bought a house in Sag Harbor, is currently working at a studio upstate.
Western tropes about women and aging aren't great. But in Chinese culture, women of a certain age are believed to enter what is called their "second spring" – a period of great wisdom, freedom and creativity. A time when female potentialities flourish and where creative ambitions flourish.
It looks like Carey Lowell, the former model, Bond girl and 'Law and Order' actress, has entered her second spring. Ms Lowell, 60, has now added ceramist to her resume.
At a recent holiday art market featuring local artisans at the Church of Sag Harbor, Ms. Lowell stood behind a table of her homemade wares. Its range of functional and decorative ceramics includes vases, bowls, candle holders and sculptural pieces, mostly in neutral hues and touches of gold and some black. Each piece is irresistibly tactile, with holes and ridges, or a shiny, almost hidden little heart.
There is also clearly an appreciation for nature: the petals appear in distinctive decorative bursts. Everything is inherently feminine, but also strong. There is a down to earth side to her work, providing a soothing counterbalance not only to our digitally tired and tech-centric world, but also to the more colorful ceramics that are in vogue these days.
"I like things that are really serene and simple. So I want it to be less noisy. I like quiet," she said.
Ms. Lowell first dabbled in ceramics in high school. A Long Island native – born in Huntington – she traveled the world with her family until they settled in Colorado when she was 12.
"Pottery was part of my public high school art class," she recently said on Zoom. "We had all these wheels. It was just something I always liked to do." Her passion continued during her year at the University of Colorado. "They even had wheels in the basement of my dorm in Boulder," she said.
But it wasn't until she moved to New York in the late 1980s, married actor Griffin Dunne and had a daughter, Hannah, that she was reintroduced to ceramics.
"I was looking for something to do for Hannah – she was about 2 at the time – and I went to Sullivan Street Children's Aid Society where they had a little class. 'd take it there and pick it up, and think, 'That's pretty cool.' So she started taking adult classes there and later at Greenwich House, an art school in Greenwich Village.
She married Richard Gere in 2002, following the birth of their son in 2000, by which time she was acting, mothering and an amateur ceramicist. Although in 2013 she sold her collection to Barneys New York, the iconic luxury department store on Madison Avenue which closed in 2020.
When Ms Lowell and Mr Gere divorced in 2015, the couple sold their home in North Haven. Now Ms Lowell is returning to the area after buying a house in Sag Harbor which she hopes to move into by next summer.
"I've always loved the light there and I love the water," she said from upstate, where she's lived for several years. "Once you live on water, you're kind of seduced. So, I was really hoping to find something on water and I did. I found a tiny little place that I'm excited about. It's not big but it has a view."
More importantly, he has a basement that she says will be turned into her ceramic studio. Working with clay seems to be her focus right now.
"I love its basic elements: water, fire and earth. It feels so primitive in a way that you can take that and create whatever you feel compelled to create," she said. declared by getting his hands dirty with clay. "I mainly work in porcelain just because I really like the color and the translucency and the finesse. , and a lot more resilient. They're a lot less picky, so you can scale up. There's so much to learn, it's endless.
Small-batch ceramics are suddenly the art accessory of the moment, linked to a widespread rejection of factory-produced sameness in tableware and vases and reflecting our desire to return to something more elemental. The periods of confinement and social isolation imposed by the pandemic over the past 18 months have also caused an increase in crafts. Stuck at home without the diversions of travel, commuting, or dining out, Americans have gone DIY-crazy, turning baking, knitting, ceramics, and other once-humble hobbies into a booming business. .
According to financial reports released by Etsy, the e-commerce brand focused on handmade or vintage items, the company's revenue more than doubled to a record $1.7 billion in 2020. pottery is the new yoga," as Vogue magazine put it.
Ms Lowell confirmed this by comparing the process of throwing clay to "creative energy flowing through you, when your creativity is flowing and you can really get lost".
She draws inspiration from organic forms to draw inspiration, she says, from things that occur naturally in her environment. "I've done castings of big squashes with really long necks. I love playing around with different iterations. Sometimes I don't cast the mold all the way. I just have the little neck. Or sometimes I take it up 'at the top, then I carve it,' she explained.
Although she said she remains open to acting, she acknowledged that ageism among actresses is an age-old Hollywood problem. So for now, she is content, she says, to take malleable clay and transform it with her own hands into functional and decorative objects.
"It's in my control. I can decide what I'm going to do, when I'm going to do it and how I'm going to do it," she said. "So in that regard, I become self-reliant. Whereas when I'm playing, I wait for someone to hire me, give me the lines to read, and then tell me how they want to shoot. I have a lot more autonomy in ceramics, which I really appreciate."
His work will be sold in Sag Harbor at the 1818 Collective, a Madison Street design boutique that will open, fittingly, next spring.